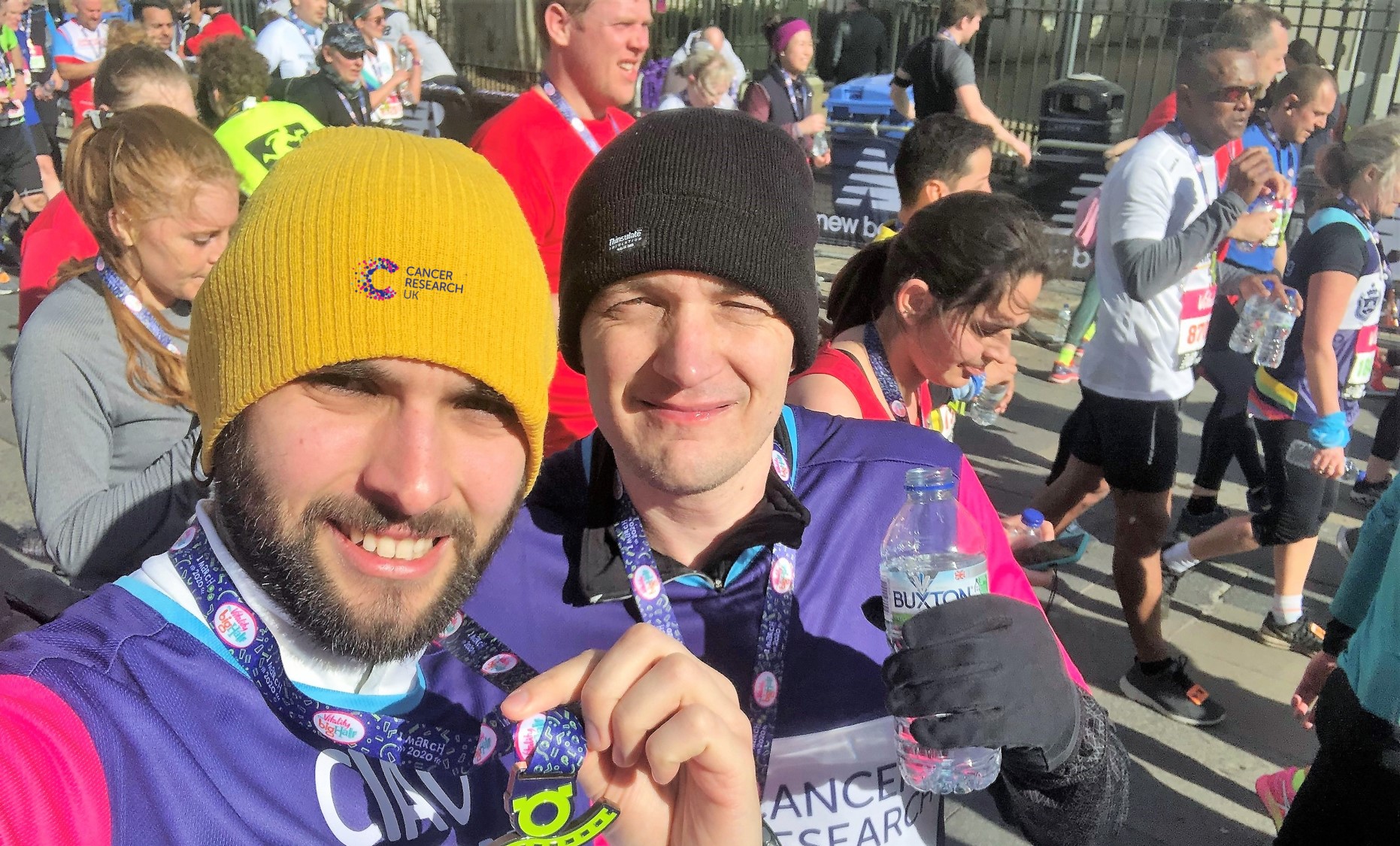 Cancer Research UK Fundraising
Alex Neil's 2020 fundraising efforts started with the bang of a starting pistol on Sunday March the 1st as David and Matteo toed the line of the Vitality Big Half. Both have been training hard, enduring the inclement weather conditions we've seen across the winter months and it proved good preparation for a very cold race day.
This was their first-ever organised running event and they didn't choose a small event to run their first half marathon either. They joined over 16,000 other runners, many of whom were supporting charities, they also shared the route with elite athletes Kenenisa Bekele, Lily Partridge and many others.
Starting near Tower Bridge the route heads toward Canary Wharf before returning through Limehouse and Wapping. It then heads south of the Thames across Tower Bridge into Shad Thames then Bermondsey before looping around the peninsula of Rotherhithe on through Deptford to the finish line in Greenwich, sounds easy doesn't it?
Navigation was simple as both David and Matteo know the area extremely well, the route passes the front doors of our offices in Canary Wharf & Docklands, and Rotherhithe & Bermondsey. Coupling their local knowledge with a well-marked route there was no way they were going to get lost!
Both were quite pessimistic about their potential finishing time and they found themselves at the back of the pack for the start, in the green wave. Turning a negative into a positive they were both able to make their way through the field, the feeling of overtaking fuelling their progress and ambition.

The prime goal is raising funds for Cancer Research UK but their second goal was to cross the finish line in less than two hours. Cheered by thousands of supporters along the 13.1-mile route they both beat their target, Matteo crossed the line in 1hr 46 minutes shortly followed by David in an equally impressive 1hr 49 minutes.
Now oozing with confidence, they are both looking forward to their next big event, The Hackney Half on the 17th May, we look forward to sharing their results.
Written by Alex Neil Estate Agents