About Us - Established 1984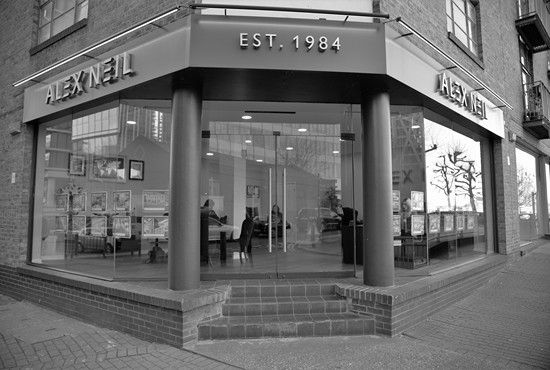 Established in 1984, Alex Neil Estate Agents have moved people and property worldwide for over 35 years. We are synonymous with the London property market and have cultivated FIA Accreditation and a fine reputation for first-class service delivery. Our national and international marketing campaigns attract innumerable unique buyers. Our offices cover many areas within Canary Wharf, Docklands, East London, South East London & North Kent. We can assist you with every aspect of selling, letting, or purchasing property in London and the surrounding areas. Additionally, we market an extensive property portfolio for sale and rent and have strong relationships with many UK property developers. We offer first-class service to clients across all price ranges, and we handle investment sales, purchases and property portfolios of all sizes for individuals and corporate owners. Our multilingual staff, offices, and company have received multiple five-star reviews and won gold awards from allAgents and the British Property Awards. Market advice and property insight are available to investors, home buyers, homeowners, and landlords. We expertly assist people with their property purchases, sales, rentals, and property management requirements.
Our Services
Residential Sales
Trust and honesty are essential ingredients in the relationship between vendor and their estate agents. Our extensive trading history has produced an impressive credentials list, and thousands of sellers have trusted us with their property sales. Achieving the highest price and selling your home to the best buyer requires a great marketing strategy with quality prospective buyer matching, and this is our expertise. Our established local presence, experienced team, and existing client and investor database provide many distinct marketing advantages over our competitors. Coupling all these points with our first-class service and proactive approach will ensure we exceed your expectations concluding with the successful sale of your property. Once we have agreed to sell your property subject to contract, our team will proactively manage the transaction to its successful conclusion whilst keeping you updated. In addition, our professional staff are knowledgeable in all aspects of the leasehold and freehold conveyancing process. And they will liaise with all parties throughout the transaction. Our charging structure is on the No Sale - No Fee basis, where you pay upon completion of our services. When the time is right for you, please take the first steps and book your valuation appointment with us!
Residential Lettings & Property Management
We consistently secure high numbers of successful tenancies to professional tenants. Quality tenancies with business professionals help keep void periods minimal and rental yields to their maximum. These elements also provide peace of mind. With constantly changing landlord and property legislation, we stay abreast of all legal requirements for Landlords. Our progression team process proposed lets and confirms that all parties have completed strict independent referencing. We maintain regular contact with our landlords during the tenancy and ensure that the tenants continue to meet your requirements. We understand the importance of maximising the return on your investment. Promptly finding you a quality tenant is a speciality. On average, we agree new tenancies for landlords' properties within 4.7 days of marketing commencing. So, whether you are an experienced or first-time Landlord, we will endeavour to make letting your property simple. Fully managed properties attract high-calibre professional and corporate tenants who stipulated management as a search prerequisite. If you live distant from your rental property, are based overseas, or seek a less active landlord role, our Property Management service will be a fitting solution.