Best Estate Agents in
Surrey Quays

, SE16

Alex Neil Estate Agents are the Best Estate Agents in Surrey Quays, SE16. We have sold and let property in Surrey Quays for over 35 years. We are multi-award-winning estate agents and specialists in Surrey Quays and SE16 properties.

Surrey Quays Area Guide & Local Information: Surrey Quays is in the London Borough of Southwark and travel zone 2. The area forms part of a peninsula on the southern side of the River Thames opposite Canary Wharf and is popular with those working in Canary Wharf.

Rotherhithe Street runs along much of the peninsular perimeter and is home to many riverside developments and warehouse conversions. Globe Wharf and Canada Wharf are fine examples of the latter. Surrey Quays was previously known as Surrey Commercial Docks and adopted its current name from Surrey Quays Shopping Centre, which opened in 1988. The Surrey Quays peninsula also encompasses Rotherhithe, Bermondsey and Deptford adjacent.

The area was derelict for many years following the closure of the working docks, and both Greenland Dock and South Dock Marina have more of a lifestyle feel to them these days. In 1981 the creation of the London Docklands Development Corporation instigated major redevelopment of many parts of the Rotherhithe/Surrey Quays peninsula and the surrounding areas. The development program generated 5000+ new homes, ranging from apartment complexes and flats to larger townhouses and waterside homes.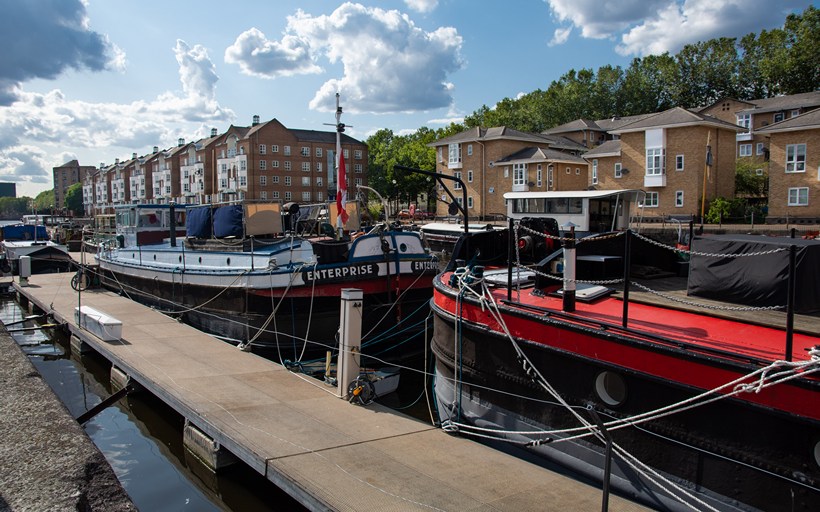 In addition, South Dock was transformed into the largest marina in London and is now a pleasant place to enjoy a walk. The second phase of regeneration is known as the Canada Water Masterplan, which will bring new facilities to the area, including educational, retail, entertainment and office space. This development phase will complement and improve the existing retail and commercial infrastructure of Surrey Quays.

Commute options are plentiful, and you can already find overground trains from Surrey Quays Station, the Jubilee Line at Canada Water station links to Canary Wharf, which will further connect to Crossrail and the DLR. Canary Wharf workers can also take an aquatic route to work, utilising the River Bus options from Greenland Surrey Quays Pier and DoubleTree by Hilton Hotel London - Docklands Riverside.

Stave Hill Ecological Park forms part of Russia Dock Woodland and is managed as a nature reserve for educational and research purposes and as a place of recreation. Nearby Southwark Park offers 63 acres of parkland for people to enjoy. In addition, Southwark Athletics and Seven Islands Leisure Centre will provide for those seeking health kicks of many types.

Exciting new developments, Jubilee Line connections and being only one stop from Canary Wharf continue to make Surrey Quays a trendy location. Our team can assist when you need an estate agent in Surrey Quays to establish your property's sales or rental value. We are the first choice for many and have been since 1984.

Area choices are subjective, and staying south of the river, you could also consider areas explored in our Bermondsey SE1 Area Guide and Greenwich SE10 Area Guide. North of the river Wapping E1W Area Guide, Limehouse E14 Area Guide and Docklands Area Guide.