Fully equipped garden offices
Properties with garden offices rank highly on some buyers' wish lists for their new homes. Understanding a buyer's needs is critical when you are selling your property. And there is one feature of property listings that shows buyers' demand. Post-pandemic life and working from home have driven requests for properties with garden offices, and we can understand why.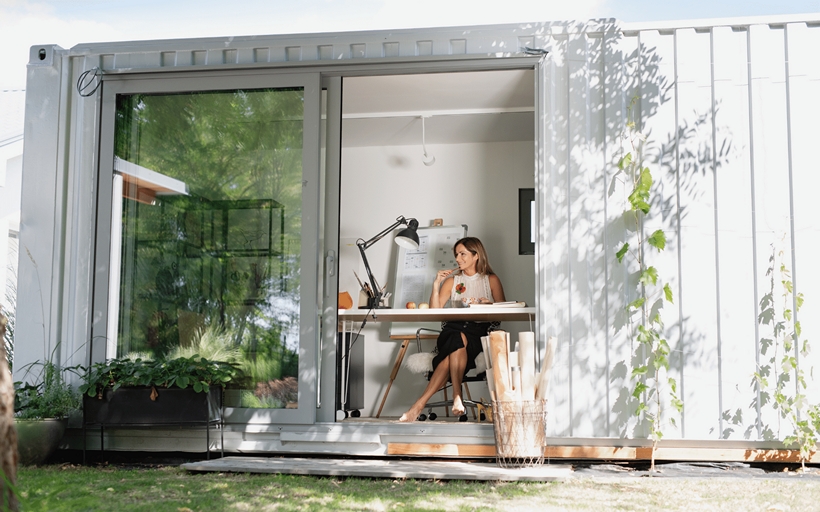 Attracting buyers. The pandemic changed working patterns for many, and working from home, even a few days a week, is more common than ever. Therefore, optimising our home to create a separation between work and life is essential, so garden offices have grown in popularity.
According to Rightmove, the proportion of property listings that mention a garden office is now 11 times higher than a decade ago, a massive 1046% increase. Fully equipped garden offices have Wi-Fi, and many have fires, air conditioning and eco features. In addition, the stylish architecture allows garden offices to coexist with their surroundings whilst enhancing property values.
Rightmove's Tim Bannister said: 'Agents and developers have their finger on the pulse regarding the home features that will attract suitable buyers. Features, like outdoor office space, have soared as working patterns have changed, and the findings also indicate a move towards greener features.'
'With outside space coming at such a premium, it may be that homeowners are ensuring what they build outside can be used in several ways. 'For example, summer houses and orangeries are likely to have fewer or smaller windows than conservatories, and so can more suitably double up as home offices during the week and entertaining spaces at the weekend.'
Are they worth it? No wonder homeworkers crave a more practical and sustainable solution after years of working from spare bedrooms, kitchen tables and sofas. As the prospect of working from home remains, they seek a long-term solution to aid a more productive and welcoming atmosphere. Research by Direct Line's home insurance arm shows that almost 1 million homeworkers have splashed out on a shed or garden office since COVID lockdowns started.
Their survey also questioned estate agents on the benefits of a dedicated home office, which revealed that three-quarters of them stated that they now add 'considerably to the desirability and value of a property with properties for sale with a home office commanding a premium of £17,500'.
Is there a real need? A recent TUC survey discovered that more than 38% of people in 2022 work from home at least once a week. The survey states, ' In fact, up to 241,000 more individuals are working in a garden office room or spare bedroom than ten years ago.' With figures like this, it is no wonder that more buyers are attracted to a property with a dedicated workspace and a relaxing home.
The benefits. Working from home can be isolating. And even if you love the solitude, where you work has an enormous impact on your well-being, which is another reason garden offices are popular. Creating separation between work and home life helps us relax and focus. An office in your garden brings the outside in, and natural light can boost your mood, aiding your productivity.
One of many. Garden offices, bifold doors, underfloor heating, and open-plan layouts are all features rising in popularity this year, according to Rightmove. Please get in touch with our sales team if you are considering making changes to your home and are unsure what will add value and attract potential buyers.
We know exactly what features are on buyers' wish lists in Rotherhithe & Bermondsey, Chislehurst & Bromley, Bow & Bethnal Green, and Canary Wharf & Docklands.
Written by Alex Neil Estate Agents
Share This Properties for sale Request valuation Contact us More news Share on WhatsAppShare by emailShare on FacebookShare on Twitter