The development of Royal Docks
Our focus area Royal Docks E16 lies southeast of the sprawling Canary Wharf in the London Borough of Newham, consisting of four separate areas covering 250 acres. The Royal Albert Dock and Basin, King George V Dock, Royal Victoria Dock and Pontoon Dock form the largest enclosed docks in the world.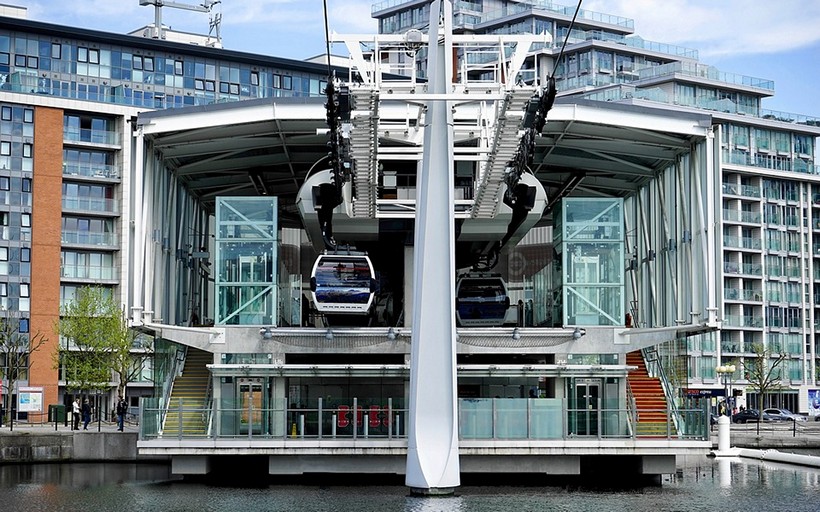 The oldest of them, Royal Victoria Dock, was constructed in 1855 and remains a busy hub of activities including water-based ones. You will still find large ships docked there, but rather than unloading their cargo, floating hotels like the Sunborn London Yacht Hotel have taken their place.
Water-based activities can be engaged in, and open-water swimming and other sports are accessible from the water sports centres. Also home to the ExCeL Centre, which hosts year-round shows, exhibitions and events, there is always something of interest.
The docks are home to many waterfront bars and restaurants, and in 2018, under the flight path of the Emirates Airline Cable Car, there was even an urban sandy beach!

If you feel like having excellent Italian food brought to you by a professional and friendly staff, Zero Sette Restaurant is where you want to go. Located on the Western Gateway at Royal Victoria Dock, it is a great place to enjoy family meals or business meetings.
For outdoor pursuits, Royal Victoria Gardens offer pleasant recreation grounds and a tranquil green setting by the river. The park provides a multi-sports arena, a double tennis court and a children's play area with a paddling pool. It is also a valuable cut-through for walks around the Docklands areas.

The docks used to be an attractive place for traders and visitors worldwide. However, as times have changed, so has the use of docks, and today we can witness ambitious improvements being implemented to bring back the sense of purpose to this unique landmark. The plan is to transform the Royal Docks into a vibrant place to live and work, an exciting and perhaps lower-priced alternative to Canary Wharf.

The Royal Albert Dock will become London's third financial and business district, expanding markets between Asia and Europe. The £1.7 billion investment will create up to 30,000 jobs and comprise offices with retail, residential and public space.

The area has plenty of Victorian terrace houses, modern flats, tower blocks and low-rise housing. Open spaces, other restaurants and cafes are in the pipeline, which will contribute to creating an attractive waterside destination.

The Crossrail project will bring the Elizabeth Line to Custom House, enabling trains to transport people from Royal Docks to Canary Wharf in just a few minutes, making it an ideal place to live and invest. Currently, there are 11 DLR stations in Zone 3 which provide trains to Canary Wharf and the City.

Plus, there are plenty of bus, cycle and walking routes, and London City Airport is literally within Royal Docks for international travellers. So, with ambitious plans and investment, it is safe to say that The Royal Docks is embarking on another exciting new chapter!

We have an enviable track record and have successfully marketed, sold and let many properties in Royal Docks and E16. So when you need an estate agent to provide you with the sales value of your Royal Docks property, we are the agent to call. If Royal Docks sounds like an appealing area to live in, you could also consider the award-winning Isle of Dogs, Beckton, Stratford and North Greenwich.
Written by Alex Neil Estate Agents
Share This Properties for sale Request valuation Contact us More news Share on WhatsAppShare by emailShare on FacebookShare on Twitter